June 2, 2018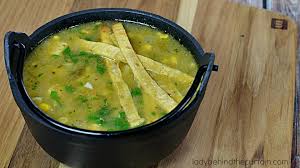 INGREDIENTS:
Boneless Chicken Breast 1/2
Spinach Puree 1/2 cup
Chicken stock 4 cups
Butter 1tsp
Ginger 2 inch
Garlic pod 1
Onion 1 medium
Black pepper powder 1/2 tsp + for sprinkling
Juice of ¼ lemon
METHOD:
1. Heat butter in a non-stick kadai. Crush ginger and add to the kadai.
2. Cut garlic pod horizontally and add to the kadai. ; Add quarter onion to the kadai and sauté for 2-3 minutes. Add chicken stock and chicken breast and let the mixture come to a boil.
3. Add salt, black pepper powder and garam masala powder and mix well. When the mixture boils, add spinach puree, mix well and cook for 10-12 minutes.
4. Remove the chicken breast and keep aside. Cut the chicken breast into small cubes and add to the soup. Add lemon juice and mix well.
5. Transfer into serving bowl. Sprinkle some black pepper powder and serve hot.
Nutrient values per Serving
Energy 200kcal; Protein 24gm; Carbohydrate 10gm; Fat 6gm
Check your Random Blood Sugar levels after 2hrs of having healthy soup. This will help us to understand how well your body can control sugar levels after having this healthy soup.